---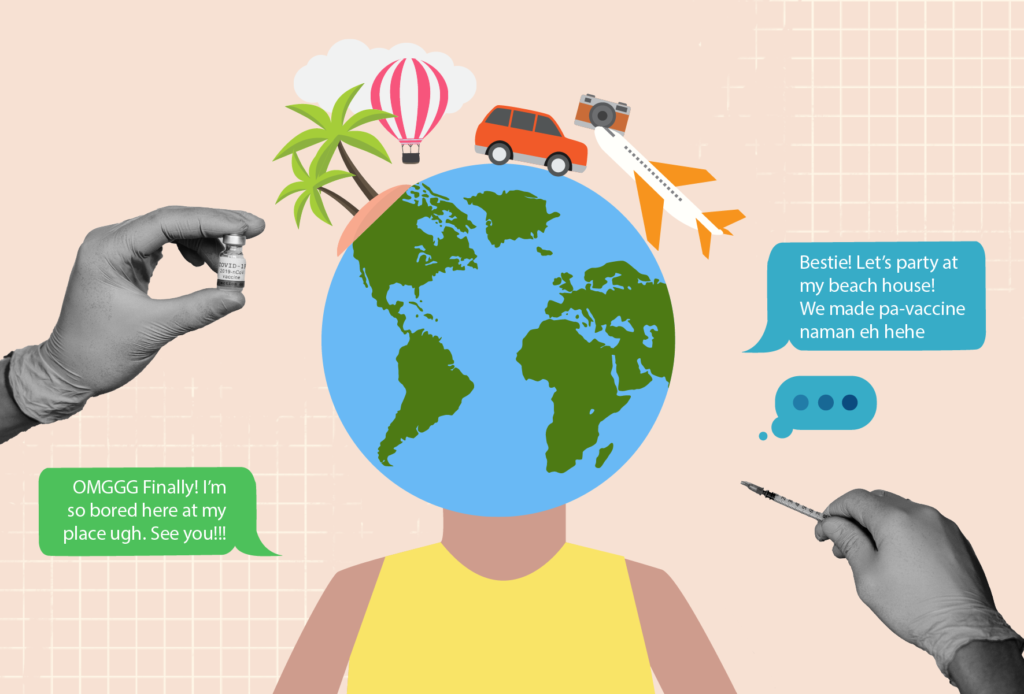 Mga mars ilang buwan na ba tayong naka-lockdown? Parang wala talagang konkretong plano, ano? Inip na inip na kami sa kaka-field trip sa aming mga bahay. Tapos makakakita ka pa sa social media ng mayayamang lumalakwatsa kahit may pandemya pa. Parehas ba tayo ng version ng pandemya? Asking for a friend. Unlimited swab tests sila ih. Gora sa Bora, gora sa Elyu. Tapos 'pag lumantad sa social media na nag-violate ng quarantine protocols, parang sila pa 'yung inapi?
Pero para marinig naman natin ang side nila, kinapanayam ng Buwanang Kalat at Katarantaduhan (BUKAKA) sina HeyItsAthena (real name: Athena Turner HalfSpanishfilipina) at Kenji2002 (real name: Shuriken Jimenez), dalawang influencerizationism na umaapela sa taumbayan na 'wag silang husgahan sa kanilang paglalagalag kahit may lockdown (bakit muna? Charot). Alam kong buryong-buryo ka na sa bahay mo kaya kung gusto mo ng chismis, tara, pakinggan natin sila mag-rant tapos ikaw na bahalang humusga, okie?
Vlog 09223788156: A Day In My life (quarantine edish)
Ateghorl: And that is it for this vlog, loves! I hope you enjoyed my A Day in My Life! Don't forget to subscribe to my channel. Goodbye, stay safe and stay indoors!
Interviewer: Hello po, ateghorl! Maraming salamat at pinaunlakan po ninyo ang BUKAKA.
Ateghorl: Oh no worries! I figured kasi na I might need a feature article din, you know, for promo hehehe.
Interviewer: So, nakita po namin sa social media accounts ninyo na kakagaling lang po ninyo recently sa Boracay. Considering po na pandemic, pwede po ba kaming magtanong ng kaunting questions patungkol doon?
Ateghorl: Oh, yeah! I also made a vlog with it, it's on my channel! It's so fun kasi there were very onting people–
Kuyaboi: Uy, sorry, are we g na ba bro? I have to do a quickie lang! They're waiting for me na kasi pareh *dinosaur sounds*
Interviewer: Ah op–
Kuyaboi: Nice! This will be fast lang. Wait, hmm, yeah hehe, uhuh andddd done! See, I'm good at quickies!
Ateghorl: Seriously??? You literally just made papogi and winked at the camera! And the lyrics you were dubbing was so layo. Is that even content???
Kuyaboi: Well, maybe the 369 likes during the past 60 seconds will answer your question. And to think, I still had my shirt on for that.
Interviewer: Sige po, start na po ta–
Ateghorl: Oh my gosh, yaya, finally! What took you so long to get these packages? I'm so naiinip na, I want to try on the makeup already!
Kuyaboi: Spoiled brat.
Ateghorl: Bla bla bla I don't care. So where were we?
Interview: Ay 'yun nga po, so nag-aaral pa po ba kayo?
Kuyaboi: Of course naman! Oh and did you know that I was DL last term? Ez pareh!
Ateghorl: Feeler! Eh you were making bayad other people naman to write your essays. At least ako I'm very hands-on sa mga task ko. You will never hear my groupmates make reklamo.
Kuyaboi: Eh ano 'yung narinig kong may pinost 'yung isa mong group–
Ateghorl: Alam mo they're just inggit sa akin kasi brands send me stuff, while sila… oh shoot, speaking of, I need to make a review of these packages I received… OH MY GOSH! Ever Balyena???? Diba ito 'yung cheap makeup? UGH!
Kuyaboi: Alam mo, what I do when brands send me stuff na I don't like, I just make a tiktok para short lang! Oh diba? Omsim pare!
Ateghorl: Ugh okay fine. Okay, and record…
Interviewer: So pwede na po bang mag-proceed–
Ateghorl: YAYA!! OH MY GOSH! Get my makeup remover dali, this color is so kadiri!
Spongebob: Two hours later…
Vlog 09175519138: reacting 2 all my haters lol
Ateghorl: Sorry it took me so long ha, but you can taste this gummy bear vitamins given to me ng isang brand! You know, bawas losyang this summer para sa mga walang budget pang-Ivy clinic!
Interviewer: *kinuha ang gummy bears at humingi ng isang pack para 'di lugi ang punta*
Ateghorl: See, sarap ng PR package 'no? It's not my fault naman na I get those eh. They hate me cuz they ain't me! Anyway to make this clear na, I go to beaches cuz the pandemic ain't stopping me from loving the sea!!! When I do that nga I even promote the locals eh??? Like, hello, I give them a voice! A platform! Some sweldo naman so they're not kawawa!
Interviewer: Parang 'di naman po yata kasya 'yung bayad ninyo sa smoothie bowl kapag na-COVID sila…
Ateghorl: Heeeey! I do my swab tests ha! 1 month early pa nga so like, I'm really prepared! How dare you!
Interviewer: Hala hindi po yata ganun 'yun…
Ateghorl: Besides, I don't kalat there. I even promote environmentalism my god! My clothes are, you know, thrift flipped! #thrifttok #thriftflip #sewtok #y2k
Interviewer: Sinasabi po ba talaga 'yung mga hashtag out loud???

Ateghorl: I CARE about the planet and I MAXIMIZE my platform kaya nga I always share pinterest pubmats on my IG!!!
Interviewer: Shine-share lang po yata ninyo 'pag maganda 'yung design…
Ateghorl: Anyway, that's enough earth loving for the day. Let's talk about mental health naman! So like… you know the dolomite thing, how it improves Manileno's state of mind something like that. In Boracay, it's ORGANIC. Freaking straight from the sea. So it's for my mental health also 'di ba? 🙁 Advocates are so hypocritical. They don't know me, they only know the cover not my story! *umiyak*
Interviewer: Iba naman po 'yung…
Ateghorl: My god, I can't… I just can't
Interviewer: You can't ano po?
Ateghorl: I can't breathe!
Kuyaboi: Athena?!

Ateghorl: Kenji… Kenji-ya…
Interviewer: Tiktok po ba ito…
Kuyaboi: Athena!!!!!
Ateghorl: K-k…
Interviewer: Ano pong nangyayari, okay lang po ba si Ma'm???
Kuyaboi: Well, yesterday, she can't taste anything so maybe she has sipon or something and then the plema went down her throat lol
Interviewer: Sure po ba kayong plema lang yan??? BAKA
Ateghorl: K-k…ovid yata… Quick… Mag IG-live ako p-p-ara maawa ang b-b-ashers…